The Beginning & A New Chapter:
Chad Stewart started Pinky Tow  in 2007 with purpose of fulfilling our desire to help the community of Phoenix, Arizona. Since then, our unusual name and bright pink truck has served the valley streets on a daily basis. After 9 years of faithful service, Chad decided that it was time for his tenure in the big pink truck to come to an end. It was important to Chad to find someone who cares as much about his customers as he does to take over the Pinky Tow brand. He found that in his friends Dave and Leonard. With Dave being an auto repair shop owner and Leonard having years of experience in the automotive industry and a former business owner, he knew that they were the guys he was looking for.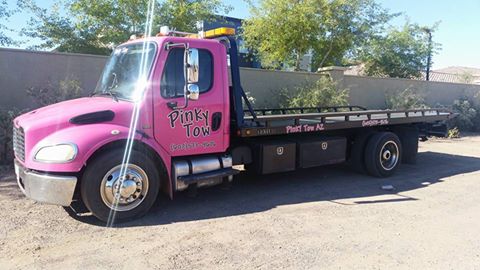 "Making sure my customers are well taken care of was really important to me and a big factor to consider when turning the truck keys over to someone else. I have 100% confidence that Dave and Leonard are the right guys for the job!" – Chad Stewart
In February 2016, Pinky Tow was purchased by Leonard Aparicio and David Parker. Together, they formed Pinky Tow AZ LLC and took over the controls of the big pink tow truck, vowing to exceed the expectations of every customer they meet. They are both really excited to start a new chapter for Pinky Tow.
In January 2020, Dave and Leonard joined forces once again to open Pinky's Auto and Performance, a full service auto repair shop.
---
Our Pledge To You:
P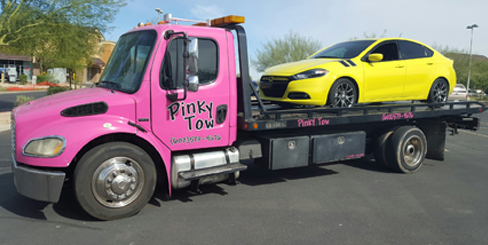 ROMPT and PROFESSIONAL is the motto that Pinky Tow is based on and we vow to work hard all day to keep that reputation.
Everyone of us has experienced the fear and frustration of being stranded somewhere with a broken down vehicle. We have also experienced that one tow truck driver that shows up and makes matters worse. That is where we pledge to set ourselves apart. You, the customer, are more valuable to us then the vehicle we tow for you. We empathize with our customers and use the resources that we have to either get your vehicle running, or getting it to a reputable repair shop that can do it in a timely manner. Our drivers are either mechanics or have a background in the field of automotive repair. That gives us the ability to help determine what is going on with your vehicle and help find the necessary resources to get you driving again. Also, having that background combined with the advanced training program that we send them through; ensures that our team members know how to connect to tow a vehicle both properly and safely, for the the vehicle and personnel involved.
Whether we are called to tow a car to a repair shop, drive 25 miles to change a flat tire or bring someone stranded on the side of the road a gallon of fuel, the Pinky Tow Team proudly jumps into action.

"Every time I have been stuck the big truck has my came to rescue. It's great, you can see it coming from a mile away! Fantastic service and a great staff!   -Richard S, Buckeye, AZ