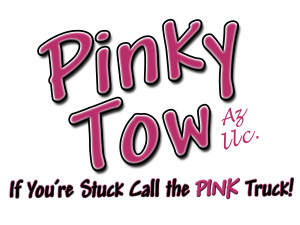 Truck Hours Of Operation:
Full Service Hours:                 7:00am – 12:00am
Stranded Person* Hours:    12:00am – 7:00am
*Stranded with disabled vehicle in need of towing
Contact Information:
Truck Mobile Number:       (602) 573-9676 (texting is okay)
Dispatch Phone Number:  (623) 386-7400 (No texting)
Business Office:                    (602) 278-9167
Fax Number:                          (602) 442-5487
Mailing Address: 
Pinky Tow AZ, LLC
PO Box 1284
Tolleson, Arizona 85353
Email Address: pinkytowaz@gmail.com
Thank you for choosing Pinky Tow AZ! We are here to help you however we can. You can call us, email us, text us or fill out the form below and submit it. This form will directly to the dispatcher via email and text message. The dispatcher will then call you to arrange the service. Soon, the Big Pink Tow Truck will be there to help!